Sinopsis
Charlie
(Logan Lerman)
adalah seorang anak introvert yang baru masuk SMA. Awalnya, Charlie sama sekali tidak punya teman. Charlie selalu sendirian kemana-mana. Kemudian, bertemulah dia dengan 2 seniornya yang sedikit unik, Patrick (Ezra Miller) dan Sam (Emma Watson) yang membuat hidupnya jauh lebih berwarna dan penuh dengan intrik yang belum pernah dilalui seumur hidupnya.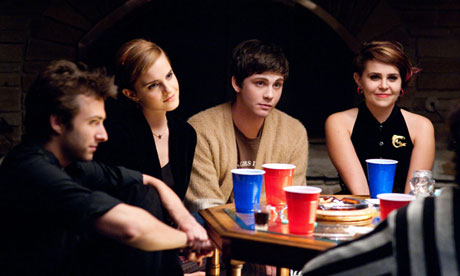 Emang sih agak telat untuk ngereview film ini, film ini adalah film 2012, tapi daripada ga direview sama sekali, telat dikit gapapalah. Hehehe.
Bentuk review saya masih berupa poin plus dan poin minus, namun kali ini sepertinya sedikit timpang, poin plus terlalu banyak di film ini.
(+)
- Aktingnya keren! Semuanya keren! Apalagi si Ezra Miller, paling top menurut saya. Dari film We Need to Talk About Kevin dan film ini, aktingnya bagus semua. Di 2 film yang saya sebutin tadi, Ezra Miller pasti punya karakter yang unik. 2 Jempol deh buat Ezra Miller.
- Bercerita tentang anak SMA itu selalu punya kelebihan tersendiri. Dari kisah cinta anak SMA, awal mula masuk SMAnya, pesta liarnya, itu semuanya selalu menarik buat diikutin.
- Ada Emma Watson. Iya, Emma Watson adalah 1 poin plus. Cantiknya itu lho, ga nahan.
- Drama romantis berbalut komedi ala anak SMA. Ringan dan menyenangkan.
- Dengan bercerita menggunakan alur maju, ditambah ada cuplikan masa lalu dari Charlie, menambah kuat kesan introvert si Charlie. Dan di akhir film, ada dengan twist ending tentang 'semua rahasia' dari Charlie, membuat film ini menjadi super duper keren!
- Tunnel Scene. Simple sih sebenarnya adegannya, tapi saya kok suka ya sama adegan di tunnel scene ini.
(-)
The Perks of Being a Wallflower adalah sebuah drama-komedi-romantis dari cerita anak SMA, yang mengambil sudut pandang dari seorang anak introvert. Film ini sangat mudah untuk diikuti, tapi tidak seperti film 'remaja' lainnya,
The Perks of Being a Wallflower
tidak mudah untuk dilupakan.
Rate 4,5/5